My first photo-expedition of the new year starts off with a horrible Bon Jovi pun and some depressing sights for fans of the New York Mets.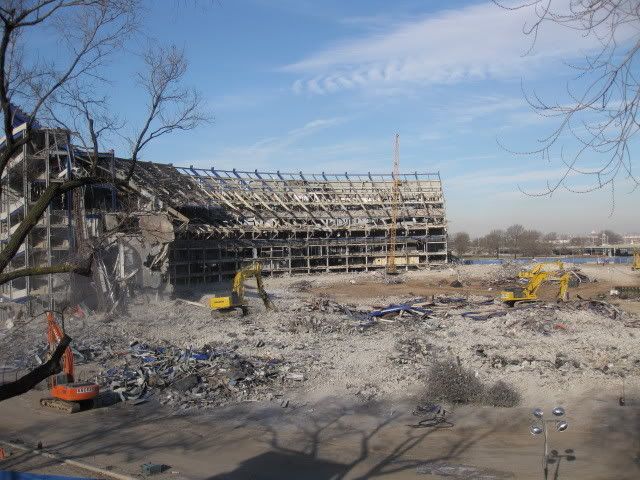 Most sane people look at Shea Stadium as a dump, an architectural wreck notable for its labyrinths of dismal concourses and horrible airplane noise. As a Mets fan who vividly remembers how the place sounded when Mookie Wilson's ground ball went through Red Sox first baseman Bill Buckner's legs in Game 6 of the 1986 World Series (when I was six years old and watching it on television), I could never get to think of Shea that way. I saw my first game there when I was eight years old, and I still remember that the opponent was the Houston Astros and the pitcher was some old guy named Nolan Ryan. When the first pitch to Mookie Wilson was thrown, the whole crowd screamed "Moo!" and I thought they were booing. Then the umpire called a strike and I screamed "Kill the umpire!" because I thought that's what you were supposed to do.
1988 was a good season for the Mets. Most of their subsequent seasons sort of resembled this...
You can't stop the wheels of progress, but this still makes me kind of sad. Losing Shea Stadium is kind of like losing an old friend... one who drank way too much and was always down on his luck, but one you couldn't help but love anyway.
The space between the old stadium and its replacement, Citi Field, is marked with depressing rubble.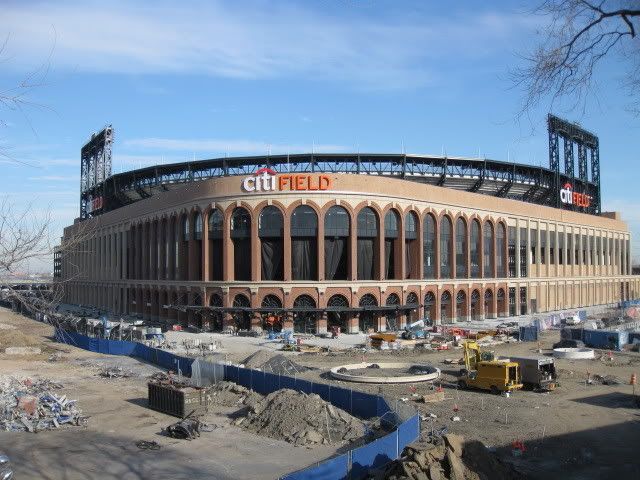 The new stadium. It looks beautiful, and it's supposed to be magnificent. But I can't stomach the fact that (1) it's named for a bank that the federal government is currently bailing out with our own money, (2) I'll hardly be able to afford to see a game there on a librarian's salary and (3) it's not the depressing dump I grew up with.
Oh well. The good news is that pitchers and catchers report in a few weeks, regardless of what stadium the games will be played in. Let's go spring, and let's go Mets!